Home
» Wicklow Guided Tour
Wicklow: 'The Garden of Ireland'
The name Wicklow is the modern version of Wykinglo - Viking's Meadow . Ireland's newest county, it is home to some of the most colourful and vibrant scenery to be found, hence it's name 'the Garden of Ireland'. There is much to be seen on one of our Wicklow tours.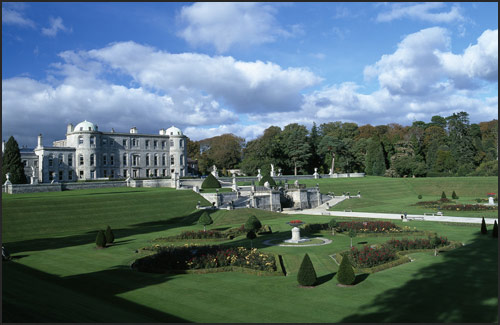 Wicklow Tour Itinerary
The tour will take you to Powerscourt House and Gardens, designed by Richard Cassells in 1731. Over the centuries the gardens were expanded and include the Italianate front gardens designed by Daniel Robertson, a japanese garden, a pet's cemetery, a walled garden, numerous statues acquired from across Europe, a dolphin pond and many other interesting and sometimes quirky garden areas. The gardens descending the hill in front of the house are backed by the peaks of the 506m-high Sugarloaf Mountain. The house itself was destroyed by fire in 1974 but has recently been restored.
Also on the itinerary is Avoca. Born out of the copper mining industry, which thrived here in the last century before finally closing in 1982, this attractive village on the Avoca River is now more famous for the hand weaving looms and the craft shop of the world famous Avoca handweavers. Avoca has also in recent years been the location for the well known series tv series "Ballykissangel". It is a beautiful place with an interesting history. Hear about the gold rush and why this little remote village had its own currency!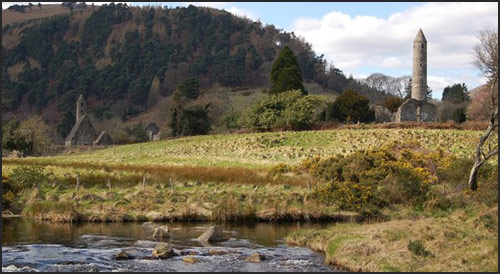 The tour will bring you through some spectacular scenery and to some unforgettable places.
Glendalough
Gleann da Locha (Valley of the Two Lakes): One of my favourite places. Not only is the site of great historical significance it is also spectacularly set in a deep valley beside two ancient lakes. Tranquil, remote and beautiful, Glendalough was a place of pilgrimage for centuries following its establishment as a monastic centre by St. Kevin in the 6th century. Surrounded by the Wicklow mountains and forests that sweep down to the lakes it is one of Ireland's most popular and important attractions.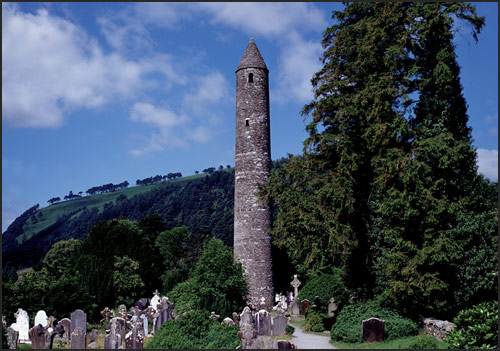 100 ft high Round Tower (10-12 th century) that was used as a bell tower, store and as a beacon/landmark to guide pilgrims from afar, the Cathedral of St. Peter and St. Paul (10 th century) and the remarkably well preserved St. Kevin's Church (also known as St. Kevin's Kitchen). Also on show is the 11ft St Kevin's Cross. The settlement was over the years attacked by Vikings but the arrival of the Normans in Ireland sealed the fate of Glendalough. In 1214 the monastery was destroyed and the Diocese of Glendalough was united with the See of Dublin. After that, Glendalough went into decline as a monastic establishment and gradually it became deserted.
A must see.
Driving Services
Tour Dublin also offers drive only services. Airport transfers, concert/sporting event collect and return, conferences and weddings. Please contact us for further information.